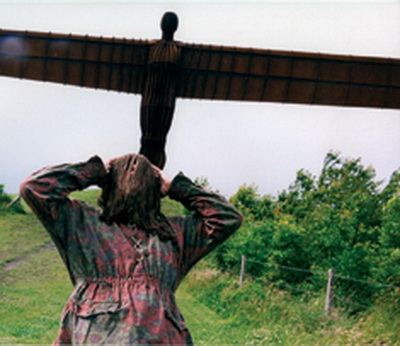 NOW AVAILABLE:

'BLACK ANGEL - LIVE!' PICTURE DISC LP/CD Single (Ltd Ed) LEPER 08P/CD09

'Black Angel - Live' recorded in Australia 24th May, 2000 was one of the first of the intense stripped-back acoustic performances featuring Douglas P. and percussionist John Murphy that characterized Death In June's live work in this new Century.

This limited edition Picture Disc LP, with a different full colour picture on each side, is coupled with a bonus 4 track CD recorded at an impromptu performance 2 years later on 26th June, 2002, at The Laundry, Melbourne, Australia featuring a rare solo performance by Douglas P. on 6 string electric guitar with unreleased live versions of tracks from the then recently-issued 'All Pigs Must Die' album.

Exciting and direct, the songs on both the Picture Disc and CD can be regarded as a 'best of' Death In June live experience up to that point in time.
All tracks have been digitally recorded and mastered.

LP Track Listing:

KU KU KU
TO DROWN A ROSE
OMEN-FILLED SEASON
SYMBOLS OF THE SUN
GIDDY GIDDY CAROUSEL
KAMERADSCHAFT
SHE SAID DESTROY
THE HONOUR OF SILENCE
GOLDEN WEDDING OF SORROW
RUNES AND MEN
FALL APART
BUT, WHAT ENDS WHEN THE SYMBOLS SHATTER?


Bonus CD Track Listing:

WE SAID DESTROY
ALL PIGS MUST DIE
DISAPPEAR IN EVERYWAY
TICK TOCK .
For domestic/international mail order we once again recommend:

http://www.soleilmoon.com (USA)
http://www.steelwork-maschine.com (FRANCE)
http://www.neofolk.de (GERMANY)
http://www.coldspring.co.uk (UK)
http://www.roughtrade.com (UK)
http://www.neuropa.be (BELGIUM)
http://www.equilibriummusic.com (PORTUGAL)
http://www.going-underground.de (GERMANY)
Search 'D.I.J.' with Going Underground as Death In June for some reason will show "no results"!
---
If you wish to stop receiving the Death in June email newsletter, please reply with "Remove" in subject line.
Please note this mailing list is maintained by DIJ's webmaster, not Douglas P himself.
For further details and news updates for Death In June and Crisis please join/view:
http://groups.yahoo.com/group/deathinjune
http://www.deathinjune.net
http://www.deathinjune.org
BM JUNE
LONDON
WC1N 3XX
ENGLAND